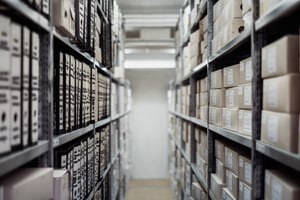 Inventory planners and managers today find themselves engaged in a delicate balancing act. On one hand, they strive at all costs to stay competitive in a marketplace that continues to demand more customized products and faster delivery services. On the other hand, they are still obliged to keep the actual cost of maintaining such complex inventory down to a minimum. Despite the dilemma, however, companies that apply best practices know firsthand how an efficient inventory management system can transform a business. Some have even reported improvements of up to 90 percent in throughput times and defect levels.
While inventory needs may vary from industry to industry, the fundamental inventory management strategies apply to all companies. Leading companies automate all inventory control functions and maintain strong relationships with their vendors to keep inventory flowing smoothly. Best practices companies also take every opportunity to maintain maximum inventory integrity and to make accurate forecasts of future inventory needs. They apply effective management philosophies such as just-in-time to restructure inventory-related processes and use advanced technology to re-engineer inventory control systems.
Best Practices
There are two main goals that best practices companies strive to achieve in inventory management: closely monitoring the status and movement of current stock and creating accurate forecasts and delivery plans for future inventory. Companies that achieve these goals follow the best practices discussed below.
Automate inventory control functions.
Information technology has evolved from being merely a functional adjunct to becoming an essential enabler of successful inventory management. To keep up with increasing demands for customized products and faster deliveries, best practices companies use the latest advance technologies to speed inventory to market. They plan strategic implementations of automated inventory control systems such as electronic data interchanges (EDI) and warehouse management systems (WMS) to facilitate the smooth transport of inventory from suppliers to customers. They also provide computer training and other incentives to employees to use information technology to enhance inventory control performances.
The continuing globalization of business has also prompted many best practices companies to explore internet-based technology. In contrast to more expensive traditional private networks, the internet offers companies a high-speed and low-cost alternative for communicating with suppliers around the world about inventory matters.
Cycle-count inventory for maximum accuracy.
For many best practices companies, cycle counting has superseded the annual physical count as the preferred method for maintaining inventory accuracy. Unlike the physical count, which requires companies to shut down operations usually for at least two days to tally their entire inventory, cycle counting takes place during the production cycle and does not disrupt normal operations.
In fact, cycle counting actually improves operations. Companies gain better control over inventory status and movement by prioritizing items according to cost and value and by cycle-counting essential or high-value items on a more frequent basis.
Because cycle counting examines only one small inventory population at a time, best practices companies use it as a diagnostic tool for testing new inventory procedures. Other companies have also adopted the cycle-counting technique for speed-counting inventory by production line rather than by traditional stock location to keep up with the fast-paced just-in-time operations.
Create strategic partnerships with best-in-class vendors through vendor-managed inventory (VMI) programs.
Best practices companies establish VMI partnerships to leverage the vendors' business and technical resources for better inventory management. In a vendor-managed inventory program, the vendor assumes full responsibility for managing a company's inventories and ensures continuous replenishment of stock based on parameters established by the company in the VMI agreement. Some vendors also use their knowledge of market trends to promote sales for the company by restocking shelves with a savvy merchandising strategy that targets the right inventories to the right customers.
Even so, a company that employs a VMI program is only as strong as its weakest vending partner, which is why best practices companies establish rigorous qualification programs to identify best-in-class vendors and sign long-term, and sometimes even exclusive, contracts with only those vendors that offer competitive prices and superior products.
To further leverage joint resources, savvy companies take every opportunity to increase collaboration with vendors. They share proprietary demand information with vendors so that the vendors may create more accurate inventory planning. They also work with vendors to create quality improvement initiatives and develop joint metrics to evaluate the success of inventory management programs.
Use historical and predictive forecasting techniques to assess future inventory needs.
Each time a company purchases materials in batch quantities or decides to maintain a certain level of safety stocks, it makes a basic prediction about future demand of those materials and stocks. To enhance the accuracy of such predictions, best practices companies apply a variety of forecasting techniques to calculate optimal stock levels. The quantitative measures act as guideposts for companies and guard them against over-and under-stocking.
Best practices companies often use a dynamic mix of historical and predictive forecasting to assess future inventory needs. While these companies update sales records and materials usage reports daily to create accurate demand histories, they also use computer-aided multi-model simulation methods to analyze the demand data and to determine optimal stock levels. In addition, best practices companies take advantage of the new information technology for predicting potential customer demands. Some companies refine their inventory planning successfully by incorporating scenario planning into their inventory forecasting systems to help them better anticipate potential risks to inventory.
Streamline inventory procurement and delivery operations according to just-in-time (JIT) principles.
In the past 20 years, many retailers and manufacturers, particularly those in the high-tech industries, have restructured their inventory processes according to just-in-time principles to meet the growing consumer demand for newer and customized products. These best practices companies often achieve JIT efficiency in inventory management by streamlining their inventory purchasing and delivery operations.
Some companies eliminate waste in the inventory process by practicing a number of JIT purchasing and delivery strategies such as implementing strategic procurement to prevent duplicate purchases, sharing transportation resources with competitors to achieve economies of scale in inventory delivery, and eliminating bottlenecks that constrain inventory flow through company operations.
Performance Measures
Efficient inventory management means achieving balance between three areas: cost, quality and time efficiency. It is not enough for companies to make the highest quality inventory available to customers – they must also do it in such a way that neither overburdens the warehouses with excess stock nor inflates the cost of order processing and delivery. Used effectively, performance measures provide data to help companies anticipate and eliminate inventory problems.
For some sample KPIs centered around cost, quality and time, see the Manage Inventories Key Performance Indicators (KPIs) document on KnowledgeLeader.
Other great inventory management resources on KnowledgeLeader include:
Inventory Management Questionnaire