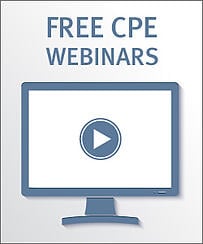 Everybody loves convenient ways to get CPE credits. Luckily, KnowledgeLeader subscribers have yet another way to keep the end-of-year CPE stress to a minimum!
Every member of KnowledgeLeader has access to AuditNet's vast library of documents, and now AuditNet is offering CPE webinars and those are included as well. Check out the great line up of audit and risk management webinars coming up:
May 24 - How to Get the Right Data for Your Audit in 3 Easy Steps
June 14 - Detecting Corruption and Other Business Conflicts With Analytics
June 22 - Fraud Detection (IT Fraud Series Part 3 of 8)
Register for all upcoming AuditNet® webinars on their homepage in the Events section. Make sure to go through the portal on KnowledgeLeader to receive free access!
Attendance at these webinars is limited to the first 1,000 registered attendees logging in so it is important to register for the events and then log in early on the scheduled day.
One last note: be sure to mention that you access AuditNet through KnowledgeLeader in order to get the free CPE credits.
When you go to an event page on AuditNet, there will be a Ticket Link near the top of the page. If you click that, you'll end up on the registration page. In the bottom section of the registration page there will be a question for "Do you access AuditNet via a site license partner?*" and then on the next question you can indicate "KnowledgeLeader" as the site partner and there won't be a cost.
There is, however, a $10 fee to re-send or research the CPE certificate, so it's important to make sure you can receive emails from noreply@gensend.io or the email domain gensend.io.
CPE, convenient and free. What's better than that?