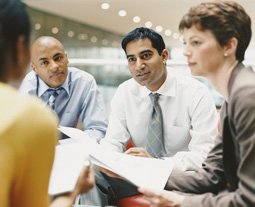 The focus on customer relationship management (CRM), also known as customer care or customer service, has been growing steadily for the last few years. Companies must implement robust CRM solutions to ensure they are competitive now – and in the future. Customer service entails every aspect of selling and servicing a customer in both the pre-sale and post-sale stages, from merchandise questions to credit card security, and delivery status to processing refunds, exchanges, and returns. CRM concentrates on the retention of customers by collecting data from every interaction each customer makes with a company from 'all' access points, whether they are phone, mail, web, or field. The company can then use this data for specific business purposes, such as marketing, service, support, or sales, while concentrating on a customer-centric approach rather than a product-centric approach.
Customer Service
Customer service is an essential but often overlooked aspect of business that is rapidly becoming a requirement in order to remain competitive. It is the key to retaining and nurturing the unique opportunities that each customer presents. Until now, merchants generally have regarded customer service as a costly but necessary part of conducting business, and they have only offered it when a customer actively signaled a need for support. At this point, vendors are stepping into reality; they are coming to grips with customer issues. As various customer service vendors have emerged, their focus is on new solutions.
Business Risks Related to Customer Service
Risks posed by inadequate customer service and relationship management include:
Customer relationship management may be fragmented.
New methods with which to improve customer service and reduce related costs are not utilized.
Lack of knowledge on the part of one section of an enterprise regarding interactions with a customer on the part of another can lead to customer frustration and embarrassment.
Inability to respond to market demands caused by lack of integration among order-entry systems or, even worse, due to infrastructure.
Lack of visibility of the order status along the whole supply chain.
Lack of true integration of SCM and CRM systems.
Inefficient routing protocols send voice calls and emails into a black hole where they are never retrieved or responded to.
Inadequate staffing provides for an overloaded workforce where responses to inquiries may be unacceptably delayed or never answered at all.
Web pages are static (not constantly updated), thus they do not respond to customer needs and demands.
Download our Customer Service Risk Questionnaire to learn how you can prevent these risks in your organization.