Note: This blog post has been updated with a link to a Q&A PDF with 17 additional audience questions from the webinar and Ann's responses. Download the pdf at the link at the bottom of the post.
Our recent webinar with popular KnowledgeLeader writer Ann M. Butera on audit planning was well-received by the audience. She gave practical, actionable pointers to ensure that your audit goes smoothly and delivers the best solution.
I went back for seconds and watched the recording to help summarize the content for you all. There was, however, so much great content that I couldn't capture it all. The recording is available if you're interested in hearing it straight from the expert herself!
In this webinar, you'll learn:
A couple of techniques for analyzing processes more rapidly
Not just about how we collect our information but what we do with it when we get it. How do we analyze it?
The types of information to record
How to understand the business objective so you can make the audit more effective
You can also read Ann's article in relation to this topic: Key Habits of Effective Audit Departments: How Do You Measure Up?
Audit Planning Notes:
Audit planning sets the tone for the audit. If the audit planning hasn't been done well, it can make the audit much more difficult.
There are four key questions to answer during planning:
1. What information should we collect?
Start with the business objective. Sometimes these are implied, not documented. This could be another value-add you bring during the audit by getting everyone on the same page about their business objectives.
Process owners should have specific, measurable, achievable, relevant and time-bound (SMART) goals.
Make sure you're speaking to the right people.
2. How can we make sure we collect complete information when audit planning?
Using a planning checklist helps to create a structured, repeatable and documented process that's consistent. Here are some more benefits:

Minimizes audit risk
Fosters consistent consideration of an array of topics
Evens out any differences in auditor-in-charge work experience
Makes it easier for new in-charge auditors to set an audit's objectives and scope
Creates a repository for planning information that can be accessed by other auditors involved in the review
3. How can we gain a faster understanding of the process under review without sacrificing accuracy?
Studying a process for similarities and patterns.
Ann's 5 process buckets:

Maximizer Processes: make, acquire and generate as much as possible (e.g., sales)
Minimizer Processes: generate as little as possible (e.g., staffing)
Line Process: Directly affect the achievement of business goal (e.g., manufacturing)
Support Functions: support the line functions (e.g., HR, Accounting)
Control Functions: mitigate risk (e.g., reconciliation divisions, quality control units)
4. How should we organize and analyze the information to arrive at useful conclusions concerning an audit's objectives and scope?
Solution: think critically about the info you've collected, then write an audit planning memo.
The purpose behind the planning memo is to enable audit management to process and agree to the audit's objectives and scope before detailed testing begins. You can use bits of the planning memo in the audit report. The planning memo highlights the most important findings in your research.
Here's what to include in your audit planning memo:
Essentially, any topic identified on the planning checklist that could affect or threaten the business objective's achievement. Examples:

Governance
Oversight
Key Systems
Competitive Environment
Potential for Fraud

The planning memo should also provide the business context for the area under review.
Most importantly, the planning memo should describe the audit's objective and scope.
The type of review (e.g., balance sheet, data center review, operational audit, etc.)
Key audit objectives
Why the entity should be audited
Areas of particular audit focus
Areas noted as having high risk
Here are some resources on KnowledgeLeader you might be interested in from this webinar:
More resources on Audit Planning on KnowledgeLeader
Or if you'd like a sample straight from the source, Ann welcomes your requests via email amb@wholepersonproject.com.
Some other interesting questions asked by our attentive audience:
Q: What is the hardest part of getting the planning process right?
A: "Right" meaning my boss is happy with it? Make sure your boss is on board with how it's going and document your ideas in a way that makes sense and can stand alone. Communication is key; getting enough time with the right people, and taking the time to process what they meant by their answers.
Q: How long should the audit planning process take?
A: The purpose of the planning phase is to set the shape of the audit (i.e., determine the objectives and scope). Try to accomplish this in 2 weeks. Then, when you get into the next audit execution phase, the detailed assessment, you can take a deeper dive into inherent risks and key controls to develop the testing plan.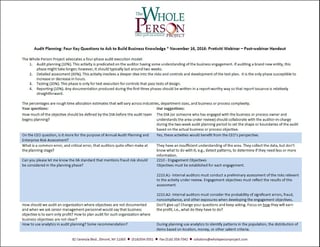 Download Ann's Q&A PDF to see all of the questions we couldn't get to during the live webcast along with Ann's answers and additional advice!