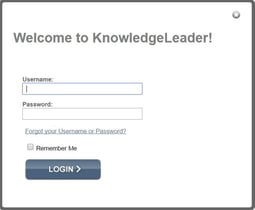 At KnowledgeLeader, we are constantly using your feedback to improve our offerings and make life easier for all of our members. Audit and risk management are complicated enough, so logging in to your KnowledgeLeader account should be as easy as possible.
With this in mind, we've updated our accounts so that you can now use your email address when logging in!
Even better, if you have a username you like, you can still use it as well. You might be one of our members that has been logging in for more than a decade with the same username, and we want to make sure you have the choice. You could even alternate if you want and use your email on Mondays, Wednesdays and Fridays and your username on Tuesdays and Thursdays!
Okay, nobody would do that, but you could, and choices are good, right?
Go to KnowledgeLeader now to try it out and check out our newest Audit and Risk Management tools and articles.
If you have any questions about your username and logging in to KnowledgeLeader, send us a message. We're happy to help!