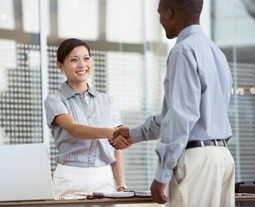 An affiliation is often referred to as a person, organization or establishment associated with another as a subordinate, subsidiary or member. An affiliation can be a social or business relationship and is essentially the act of being formally connected or joined. Examples of affiliations in the business environment include sourcing partners, vendor relationships and alliances.
Affiliation risk affects any company that has a relationship with another company. One company may enter an affiliation with the desire to ensure its long-term vibrancy, while others may be seeking to build their own brand identity through an affiliation with a larger firm.
Three major aspects of affiliation risk must be considered: sourcing, supply chain management and alliances.
In order to assess the benefits of a strategic relationship, actual performance must be compared with the service-level agreements (SLAs) that have been set for affiliate partners. An SLA should contain a definition of service expectations that are of an acceptable standard and achievable within the budget.
The business would not be well-served by low performance expectations, which could be achieved with ease, nor would consumers benefit from service levels set so high they could not be reasonably reached.
Because the business environment is dynamic, the SLAs should not be thought of as static, but instead should alter in response to changes in technology and use.
Sourcing
Sourcing (sometimes referred to as outsourcing), as it relates to business, is the purchasing of services used to maintain, conduct or develop a business strategy. The object of sourcing is to allow a company to focus on its core business by tasking an outside source to handle its non-core operations. In outsourcing relationships, the "buyer" retains control of the process. It is the transfer of ownership that defines outsourcing and often makes it a challenging process.
The buyer does not instruct the supplier how to perform tasks, but instead focuses on communicating desired results. It leaves the process of accomplishing those results to the affiliate company, or supplier.
Sourcing can often bring a company's entire operation to optimal standards at a cost equal to or less than current expenditures and without huge capital expenses. Depending on its size and technological ability, a company may even source its entire business strategy.
Sourcing doesn't come without potential pitfalls, though. Some firms are less than confident when it comes to giving external parties access to their sensitive data. Additionally, some firms question how much responsibility an external party will accept when its service isn't sufficient and whether it can integrate its offerings with a business's existing infrastructure and legacy applications.
Sourcing is directly related to affiliations through the relationships that are maintained from the contracts that are formed. By establishing sourcing contracts, a company is allowing its name to be associated with another firm, and through that association, opening itself to affiliation risks.
Supply Chain Management
An organization's supply chain and distribution channel encompass the network of resources and processes involved in the production and delivery of final products, from procurement of raw materials to their transformation through manufacturing to the distribution of finished goods to end customers.
The supply chain and distribution channels are considered to be a company's links to its suppliers and current and potential new customers. In many cases, control over these channels amounts to control over the business relationships with the firm's suppliers and customers. Poorly performing or positioned channels threaten the firm's capacity to effectively and efficiently interact with its suppliers and access current customers, potential customers and end users.
To succeed, an enterprise must commit to product availability, price and delivery date at the time of order entry. Another challenge in the current economy is performance. The competition more than likely also has an online presence and the barriers to switching vendors almost instantaneously are rapidly eroding. To deliver at this level of performance, all participants in the supply chain and distribution channels must act collectively as one seamless fulfillment process.
Supply chain management relates to affiliation risk because suppliers and vendors have a direct relationship with their buyers. An organization must ensure that its business partners contribute strength, value and performance as agreed upon in SLAs. Supply chain management risks are enhanced for eBusinesses because of the dynamic and competitive nature of the environment.
Alliances
An alliance is a close association of groups formed to advance common interests or causes. It is also a formal agreement establishing an association between two or more companies.
Business alliances have become increasingly powerful weapons in the war to gain and sustain a competitive edge. When two companies align, their synergistic strengths seem more apparent and their individual weaknesses become somehow less noticeable. Joining forces with another business can give a company deeper pockets and greater access to new technologies. It can also increase brand awareness, enlarge customer bases and enhance product or service offerings.
In today's competitive market, there are many reasons for forming alliances. Some of the most common motives include:
A need for increased cash
A need to keep up with ever-changing technological advances
A need to find viable solutions for tough problems
A need to fend off a competitor
A need to gain market share
Achieving advantages of scale, scope and speed
Increasing market penetration
Enhancing competitiveness in domestic and/or global markets
Enhancing product development
Developing new business opportunities through new products and services
Reducing costs
There are several different types of alliances, ranging from simple alliances to complex joint ventures. There are many benefits to be reaped from each type. Partnerships also vary from the extremely complex relationships between huge corporations to simpler arrangements, where the small corner store partners with a supplier on a small-scale promotion.
Likewise, the duration of business alliances varies from one situation to the next. Some partnerships are formed on a long-term basis while others are for only one product, service or project.
Benefits of forming an alliance include:
Enhanced strategy and operations
Opportunity to work collaboratively with alliance partners to generate new ideas for products, processes and technologies
Ability to institutionalize the knowledge and processes gained during the alliance in order to continue to replicate alliance success and minimize future mishaps
Better access to new sources of knowledge
Greater new product development capabilities
Stronger alliance ties based on reciprocal knowledge sharing
Enhanced proficiency for building future alliances
You can find more information about affiliation risk on KnowledgeLeader by accessing the document Affiliations Risk Key Performance Indicators. Here are other KnowledgeLeader resources that might be of interest to you as well:
Sourcing Risk Key Performance Indicators (KPIs)
Channel Effectiveness Risk Questionnaire