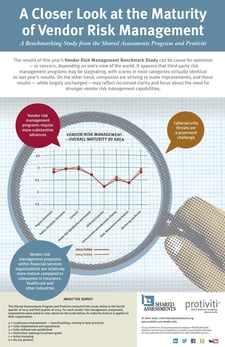 Earlier this year, Protiviti published the 2015 Vendor Risk Management survey, which illuminated the fact that organizations seem to have gained a better understanding of vendor risk in the last couple of years, and many organizations are making concerted efforts to more accurately assess their vendor risk management programs.
The study also showed, however, that there are still plenty of improvements to be made. These are the survey's key findings:
Vendor risk management programs require more substantive advances:

The overall maturity rating for program governance in this year's survey (2.8 on a 5-point scale) should serve as a warning sign of the need for deeper changes that reach into organizational culture and behavior.
Cybersecurity threats are a prominent challenge:

Cybersecurity threats are clearly on the minds of risk managers, IT functions and regulators. High-profile data breaches, often involving millions of customer records and personally identifiable information, are being reported with greater frequency.
Vendor risk management programs within financial services organizations are more mature:

The financial services industry remains ahead of other industries, including insurance and healthcare, with regard to vendor risk management programs.
If you think that your organization is among those in need of a bit of vendor management reform, you should definitely check out KnowledgeLeader's vendor management topic area on a regular basis. We have, as of the moment I'm writing this, 57 different tools and publications on the topic, and we're steadily adding more. In 2015 alone, we've published 26 items on the topic, with new content appearing on our site every month.
Our vendor management content spans a wide range of formats and content types, including audit reports, podcasts, benchmarking tools, risk & control matrices, and policies & procedures. What's more, our content in this area is well received—our most popular vendor management tool, the Vendor Management Audit Work Program, has been viewed nearly 9,000 times since it first appeared on our site.
Take a moment to browse all of KnowledgeLeader's vendor management tools and publications here.