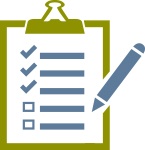 Internal audit performs a risk assessment to identify and prioritize key risks to best allocate the internal audit resources for the next year. This risk-based approach is focused on surveys/interviews of a cross-section of management personnel to solicit input from the potential customers of an internal audit function. The output from the surveys and interviews can be used to develop an audit plan that creates broad coverage through a blend of internal audits, control self-assessment and targeted external audit coverage.
KnowledgeLeader published three sample internal audit risk assessment questionnaires in 2016 and all have appeared in the Weekly Top 5 numerous times. The KnowledgeLeader team monitors the trends shown through the Weekly Top 5 to identify what is (and isn't) resonating with subscribers. Based on repeat appearances as top content, we hit the mark with subscribers when publishing these internal audit risk assessment questionnaires.
Take the opportunity to view these questionnaires. Hopefully they are useful to your internal audit department.
Internal Audit Risk Assessment Questionnaire: Sample 1
Internal Audit Risk Assessment Questionnaire: Sample 2