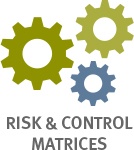 It's been one year since our launch of the new tool area Risk and Control Matrices. To celebrate, we plan to publish one new RCM each week of May and we're granting our trialers access to the new RCMs for their first week of publish! This content is an exclusive part of a KnowledgeLeader full-access subscription.
These sample RCMs contain a compilation of risks by business process and a vast array of possible controls to choose from.
Our first RCM published in May 2016 outlines risks and controls common to the Foreign Exchange process. It was the most popular item for the week of May 2, 2016.

Sample risks include:
Bank treasury workstations are used for executing all foreign exchange transactions.
Competitive bids are not obtained for large dollar foreign exchange transactions, resulting in trades being executed at noncompetitive rates.
Foreign exchange exposures are not identified and hedged.
Foreign exchange trading is conducted by an unauthorized individual, possibly exposing the company to potential foreign exchange losses.
In the same week, our Accounts Payable RCM also landed in the Top 5. This was one of our original RCMs and continues to remain popular with KnowledgeLeader subscribers as it is a frequent guest in our weekly Top 5, quarterly Top 10, and annual Top 25 reports.
Two very different processes resonated with you last week. We hope you continue to enjoy this content.