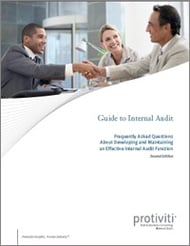 Occasionally we get asked if we have any information about starting a new internal audit department or information for starting auditors. I'm happy to say we have this information in a handy booklet along with a lot of other great information.
Here's the chapter most relevant to this topic:
Starting an Internal Audit Function
How do we start an internal audit function?
How should an internal audit function be staffed?
To whom should the head of internal audit report?
Can employees in the company participate in internal audits?
What are the pros and cons of outsourcing/co-sourcing internal audit?
Where do I get more information on internal auditing?
In addition, you may want to take the free sample course Introduction to the Internal Audit Profession. The free version doesn't provide CPE credit, but it's still great training.
And finally, when you need help getting started on your first auditing projects, take a look at our Topics page to get a start finding great tools and templates to make your job easier.
For example, you might be interested in some of these:
Audit Committee & Board
Audit Planning
Audit Reporting
Internal Audit
Internal Audit Administration
IT Audit
If you're starting a new audit function, now is probably the time to sign up for a no-obligation free trial to find out how KnowledgeLeader can make your life much, much easier.