Most people have favorite sports teams, movies and flavors of ice cream, but how many people have favorite Audit Reports or Risk & Control Matrices?
Maybe not your average person, but KnowledgeLeader subscribers aren't average people!
If there is a tool or publication you keep going back to, did you know you can save it to your Favorites list and make finding it easier? When you're logged in to your account and viewing any document page, there will be a link with a star right above the title, like this: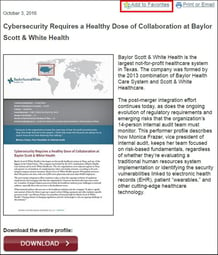 Hit that star and the document will get saved to your Favorites list for easy access. Whenever you want to see your favorite documents, just go to the top of the page near your name and hit the "My Favorites" link. Once there, you can view everything you've saved by Date, Title or Topic, and you can also remove favorites if you like.
One great example is the AuditNet Premium Content portal page. Just go to that page, hit "Add to Favorites," and you've got a quick link to go straight there anytime you need it.