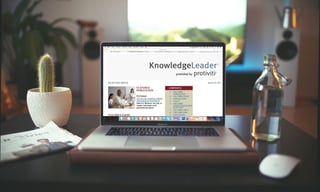 I'm a big fan of webinars. I love the convenience; you can sit right at your desk, sip some coffee, eat a crunchy cookie, and still get everything you need from the presentation, including CPE credits.
On KnowledgeLeader, we will always let you know when a webinar is coming up by posting it on our homepage, in a special email and in the weekly newsletters. These webinars are not always for CPE credits—for example, our handy user-tutorial webinar, "Become a KnowledgeLeader Pro in 30 Minutes" always gets great feedback, and it's just for making you better at using the resources on KnowledgeLeader.
Keep an eye out for the CPE webinars from subject matter experts like Ann Butera, Ed Moyle of ISACA and Gordon Braun. Previously they've covered great topics like "Managing a Multi-Generational Workforce" and "Todays Top Technology Challenges and the Relationship to the Audit Plan."
If you aren't getting the weekly newsletter with updates on our great new tools, audit and risk management news and hot issues, as well as the upcoming webinars, then you'll want to sign up here for a free trial. Our free trials provide access to the last 18 months of materials and are completely no obligation, so it's a great way to stay up on the news and get a head start on your work with audit programs templates and other helpful tools.