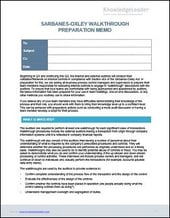 This particular memo struck a chord with subscribers last week. Last week it held the #3 spot in our Weekly Top 5, which makes sense as public companies are "in the throes" of preparing for their fiscal year-ends, typically involving compliance with the Sarbanes-Oxley Act.
This Sarbanes-Oxley process memo informs and prepares business process control managers to engage in "walkthrough" discussions with auditors. In this sample, the internal and external auditors have to conduct their validation/fieldwork on internal controls in compliance with Section 404 of the Sarbanes-Oxley Act. In preparation for this, all business process control managers and supervisors are being asked to prepare their team members responsible for executing internal controls to engage in "walkthrough" discussions with the auditors.

To ensure that teams are comfortable with being approached and questioned by auditors, information has been provided in this memo for use in team meetings, one-on-one discussions or any other methods routinely used to share information.
If you are interested in content focused on Sarbanes-Oxley compliance, these pieces of KnowledgeLeader content might also be helpful.