Occasionally I hear from people who have downloaded documents from the internet and then can't open them. When this occurs on KnowledgeLeader, the first, easiest step is to download the document again and select "Save as" rather than "Save" or "Open" in the download dialogue box. This is the download dialogue box from Internet Explorer 11: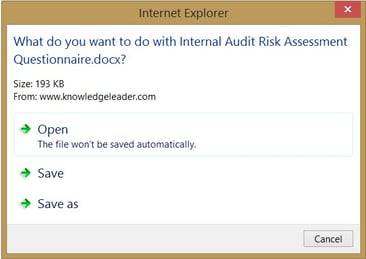 With the first option, "Open," Internet Explorer tries to helpfully choose how to open the document for you. Unfortunately, it doesn't always know how the document should be handled and sometimes will fail. With the next option, "Save," Internet Explorer will save the document straight to the folder you've chosen as your download destination. If you've never changed that setting, it's the Downloads folder. Again, sometimes Internet Explorer can be a little too helpful and save the file in the incorrect format.
Personally, I always choose "Save as." When you choose "Save as," you can see and choose where the download is being saved to, and you can also see the format the download is being saved as. For example, if you know you are downloading a Visio document and Internet Explorer is trying to save it as an XML file, you should probably change the extension as you save it.
If you ever encounter an issue with an audit program, process document, article or any other kind of document on KnowledgeLeader, contact us and we'll definitely help you out!