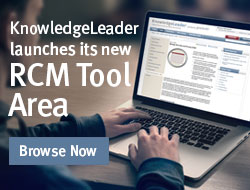 We are extremely proud to announce a new tool area: Risk and Control Matrices (RCM). Members have been asking for these samples, and we have managed to put together a tool like no other on our site.

Each sample RCM contains a compilation of risks by business process and a vast array of possible controls to choose from. Unlike any of our other tools and resources on KnowledgeLeader, each of our RCMs will be periodically refreshed with new content after its initial publish–making it its own expanding resource. So you'll have to keep an eye out for updated RCMs that will indicate we've added new risks sand controls!
When planning your risk management strategy, it's important to have a strong internal control environment. The RCM format emphasizes that strong and risk-oriented internal control environments are often optimized with automated/manual controls, depending on the situation.

You can use an RCM to benchmark your company's control objectives. Use our samples as a guide to choose the controls that will safeguard you against risks which may arise if not checked timely. Once you've selected the RCM to fit your project, customize it by picking and choosing the controls that satisfy your organization. The control assessment can then also be summarized to develop an action plan.
We plan to publish the following RCMs this year alone:
Manage Business Continuity Program RCM

Process Accounts Payable RCM

Process Payroll and Benefits RCM

Manage Third-Party Agreements RCM
Because the RCMs are such an extensive tool, we've made them exclusive to subscribers. And from now until August 15th, you can subscribe to KnowledgeLeader for less! Use promo code CS2015 for 20% off all new subscriptions, including groups.
We hope you enjoy the new addition!