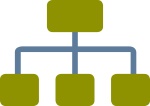 Process Flows not opening? Let's talk about Microsoft Visio and .vsdx!
Over the years, our internet browsers have gotten smarter and more sophisticated and are constantly helping us with little tasks in the background. For the most part, we benefit from these helpers and don't even notice they're there. Sometimes though, the feature is also a bug…
Have you been having trouble getting our process flow documents to open? Maybe you hit the handy download link and Internet Explorer asks what you want to do with this mysterious zip file? That would be a good example of a browser being helpful and getting it wrong.
The browser is looking at the Visio of version 2010 and newer (".vsdx") and thinks that they are zipped files and helpfully changes the filename to adjust. So the file "Payroll Process Flow.vsdx" shows up in your browser download dialogue as "Payroll Process Flow.zip" and that's no help at all.
When you encounter this "helpful" feature, just change the name from ".zip" to ".vsdx" and your computer will now know how to handle it.
If you don't have Visio and would like to open these documents, there are some alternatives to Microsoft out there that can handle these, and we can only suggest doing a Google search for the one that might work best for you.