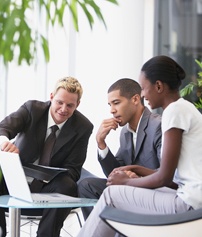 From the mailbag we've got the following question:
Hi Dave,
I was wondering what a group administrator does in a group subscription. Can you help me understand?
This is a great question. When a group subscription is set up, one member of the group is designated as the group administrator. This person will have the ability to make changes to the group and will be our contact when we have questions or concerns.
One nice aspect is that the administrator doesn't have to take up a seat in the group. Do you have a team of five auditors and you want to make an assistant the administrator but not give them content access? You can do that! That way you have all five auditors on your team in your group with content access, and when the assistant logs in they will have access to the administrative functions but not the content.
What kinds of changes can an administrator make?
Add a Seat: Is your audit team growing and you need to add new members to your group subscription? The administrator for your group can do this with just a few clicks.
Assign a Seat: This is most important in the beginning when first setting up the group, and it can also come up later if more members are added. Anytime you have an open seat in your group you can add your new member into that seat.
Transfer a Seat: Did someone on your team win the lottery and you've replaced them with a new team member? No problem, as the administrator you can transfer the seat from the member who is leaving to the new member.
Upgrade a Seat: Imagine one of your risk and compliance officers or auditors needs some CPE credits. You can upgrade their account to KLplus and they'll have access to all of our online, on-demand CPE courses for the reminder of the current subscription period.
Update the Account Information: Things change, offices move, email addresses get modified, and sometimes you need to change these things on your account. As the administrator, you can do that.
Renewals: When your subscription is getting close to expiring, as administrator you'll be able to log in and process the renewal for your team and make any changes you need to while doing it.
Of course, if you have any questions or concerns, we are happy to help with this process. Just shoot us an email and we'll help guide you through any difficulties.
PS: Keep an eye out for the fancy new update for group account administration coming later this year!