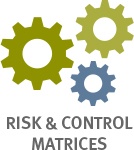 KnowledgeLeader first started publishing RCMs in May 2015. In that time span, we've added 12 of this valuable tool type to our site, and we're very excited to keep adding to the list as time moves forward.
Our RCMs, an exclusive content type available to subscribers, contain a compilation of risks and a vast array of possible controls to choose from.
To celebrate the anniversary of the RCM launch, we will be publishing one new RCM each week during the month of May. Keep your eyes peeled for these new additions!
In the meantime, browse through the last year's worth of RCMs if you haven't already:
We hope you enjoy this content!