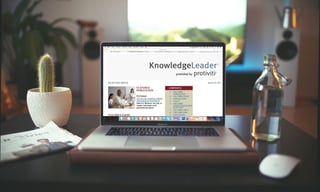 Do you ever feel like time is getting faster and life is just passing you by?
Don't worry! It's not just you! As we accumulate new experiences throughout our lives, our perception of time changes so that it seems to go faster and faster. Those long summers of childhood were a major chunk of our stored experiences and as we age, summers seem to zip right by. Also, there is the fact that our brain is better at storing new experiences than routine ones, so our memory of the past weeks can be pretty short if we've been doing the same tasks over and over.
This is a blog about KnowledgeLeader's audit and risk management website, so why am I talking about neurosciences?
Because we sometimes get so stuck on routine tasks we miss out on the new stuff, like new material on KnowledgeLeader!
We all want to know the latest and greatest information, and sometimes we want to browse and see what's new. Of course, the best way to do that is to read the email newsletter, or just go straight to KnowledgeLeader.com because all of the newsletter material is right there on the home page!
But what if you think you might have missed last week, or the week before?
No Problem! Right under the tab that says "New This Week" on the homepage, there's a link that says "(see past issues by date)." Click that link and you can browse through the last several months' worth of newsletters.
Of course, if you know exactly what you're looking for, check out my blogs on finding material using the Topics tabs and the Search function.
So let us help you get through the routine stuff with our audit tools and templates and then your brain can focus on the hot new issues of the day.