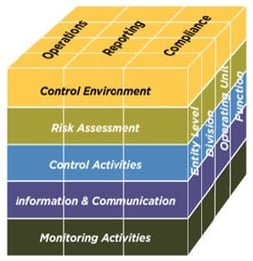 COSO, an organization that provides thought leadership and guidance on internal control, enterprise risk management (ERM) and fraud deterrence, released its updated Internal Control–Integrated Framework (New Framework) in May, 2013.
The long-awaited New Framework issued by COSO was an important development; it helps organizations develop cost-effective internal control systems to achieve important business objectives and sustain and improve performance. It also supports organizations as they adapt to the increasing complexity and pace of a changing business environment, manage risks to acceptable levels and improve the reliability of information for decision-making.
Without a doubt, the COSO Internal Control–Integrated Framework is the most dominant control model in the U.S. It has been adopted as the generally accepted framework for internal control and it is widely recognized as the definitive standard against which organizations measure the effectiveness of their systems of internal control.
As companies transition to the New Framework and auditors familiarize themselves with the New Framework and companion materials and determine and execute their transition plans, questions and confusion are bound to crop up from time to time.
KnowledgeLeader has a wealth of tools and publications related to COSO (65 to be exact) that can be used as reference, guidance and assistance throughout all stages of an organization's transition. If you're just getting familiar with the 2013 COSO framework, you'll love exploring our most popular COSO resource to date: Protiviti's Updated COSO Internal Control Framework Frequently Asked Questions booklet, which is currently in its third edition. Those who are more extensively familiar with COSO will be able to make great use of our various COSO tools, including questionnaires, executive summaries, risk matrices, audit reports and audit programs.
Browse all of KnowledgeLeader's COSO tools and publications here.