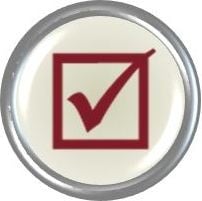 One of my favorite things to see on KnowledgeLeader is the Weekly Top 5, showing the top viewed items on our site in the last week. Each year, we publish the Top 25 pages of the prior year and every quarter, we publish the Top 10 items. We are all about letting you know what is trending on our site.
One of the tools that is starting to appear in these top item lists is the Enterprise Risk Management Questionnaire. As risk management discussions increase in organizations, we are happy to see that our subscribers are finding this tool to be helpful.
This questionnaire can be used when analyzing an organization's enterprise risk management strategy. It focuses on the internal environment, objective setting, risk identification, risk assessment, risk response, control activities, information and communication, role of the board of directors, role of management, and common risk failures.
If you are interested in this questionnaire, here are a few of our other top risk management-focused items:
Risk Oversight and Risk Management Questionnaire
The Enterprise Risk Assessment Process Questionnaire
Enterprise Risk Management Key Performance Indicators
Enjoy!