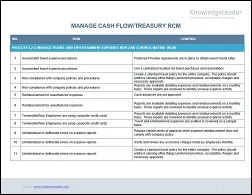 Cash and treasury management refers to a broad area of finance involving the collection, handling, and usage of cash and assessing market liquidity, cash flow, and investments. This process has the ultimate goal of managing the firm's liquidity and mitigating a large variety of risks.
KnowledgeLeader's latest risk and control matrix (RCM) focuses on the cash and treasury management process.
Sample risks include:
Advance disbursements are misappropriated.
An unauthorized individual attempts to access or redeem funds from the company's investment account.
Authorization for appropriation of company cash is not restricted to appropriate personnel, resulting in unrecorded transactions.
Bank accounts are set up using incorrect company information.
Blank check stock is susceptible to theft.
Cash management and liquidity risks, such as inadequate cash resources to fulfill authorized disbursements and bank accounts, are opened/closed without proper authorizations.
Cash may be disbursed without management's knowledge. Cash may not be disbursed on a timely basis.
Cash may be lost, misused or diverted; this could result in an overstatement of accounts receivable.
Cash withheld from employees may be diverted; this could result in unrecorded liabilities.
If you are a subscriber, you can access this document along with the other items in KnowledgeLeader's growing RCM repository.