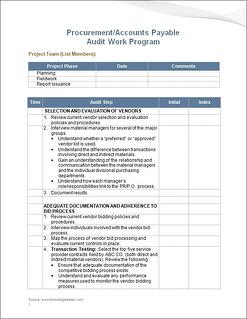 Each month, we'll be giving our social media and blog followers special access to download one of our most popular recently published tools.
Thanks for being a part of the KnowledgeLeader social community!
May's free tool: Procurement/Accounts Payable Audit Work Program
The purpose of this work program is to provide the general steps used to perform a procurement/accounts payable audit. This document provides detailed steps in the areas of selection and evaluation of vendors, adequate documentation and adherence to bid process, approvals for PRs/POs, approvals for payment, accurate & timely recording of liabilities, early payment discounts, and system access.
Download the Procurement/Accounts Payable Audit Work Program here: http://bit.ly/1omEoMS