Over the last year, we've seen unemployment rates decrease and consumer confidence make a comeback, but that doesn't mean that business risks have evaporated. In fact, as the global business environment rapidly evolves, new opportunities and challenges present themselves, bringing new risk dialogue topics to boardrooms and executive offices around the world.
Research conducted by Protiviti and North Carolina State University's ERM initiative indicates that although outlook has improved, most executives rate the business environment as risky. What's more - board members seem to think the business environment is more risky than does management, and CEOs appear to be the most optimistic about 2014's risk environment overall.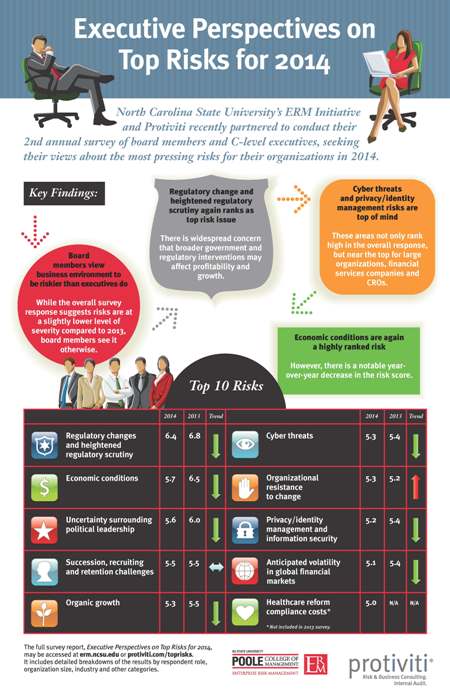 Here are the top 10 risks cited by the 374 respondents who took the survey, including C-level executives, board directors and other top management from various industries and organizations:
Regulatory changes and heightened regulatory scrutiny

Economic conditions restricting growth

Uncertainty surrounding political leadership affecting U.S. and international markets

Challenges related to succession-planning and talent acquisition/retention

The ability to grow organically through customer acquisition

Cyber threats that have the potential to disrupt core operations significantly

Resistance to change restricting necessary adjustments to the business model and core operations

Privacy/identity management and information security/system protection

Anticipated volatility in global financial markets and currencies

Uncertainty surrounding costs of complying with healthcare reform legislation
What are the top risks your organization faces in the year ahead, and how do you plan to prepare for them?
Additional links and resources: