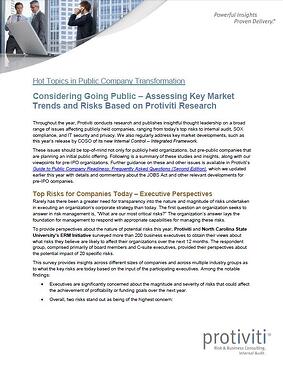 Throughout the year, Protiviti conducts research and publishes insightful thought leadership on a broad range of issues affecting publicly held companies, ranging from today's top risks to internal audit, SOX compliance, and IT security and privacy. Protiviti also regularly addresses key market developments, such as this year's release by COSO of its new Internal Control – Integrated Framework.
These issues should be top-of-mind not only for publicly held organizations, but also for pre-public companies planning initial public offerings. In a recently released article, Protiviti provided a summary of these studies and insights, along with viewpoints for pre-IPO organizations.
Top Risks for Companies Today - Executive Perspectives
Rarely has there been a greater need for transparency into the nature and magnitude of risks undertaken in executing an organization's corporate strategy than today. The first question an organization seeks to answer in risk management is, "What are our most critical risks?" The organization's answer lays the foundation for management to respond with appropriate capabilities for managing these risks.
To provide perspectives about the nature of potential risks this year, Protiviti and North Carolina State University's ERM Initiative surveyed more than 200 business executives to obtain their views about what risks they believe are likely to affect their organizations over the next 12 months. The respondent group, comprised primarily of board members and C-suite executives, provided their perspectives about the potential impact of 20 specific risks.
This survey provides insights across different sizes of companies and across multiple industry groups as to what the key risks are today based on the input of the participating executives. Among the notable findings:
Executives are significantly concerned about the magnitude and severity of risks that could affect the achievement of profitability or funding goals over the next year.

Overall, two risks stand out as being of the highest concern:

Risks related to profitability constraints due to overall economic conditions that will limit growth opportunities; and

Concerns about the potential for regulatory changes and heightened regulatory scrutiny that will affect how products and services will be produced and delivered.

In addition to concerns about the economy and regulatory change, the other risk viewed as having a major impact in the coming year relates to growth opportunities being restricted by uncertainty surrounding political leadership in national and international markets.

Other top risks include:

Succession planning and attracting/retaining top talent

Anticipated volatility in global financial markets

Cyber threats, privacy, identity management, and other information security and system protection risks
Pre-Public Company Point of View
It is important for pre-IPO organizations to monitor the economic landscape and regulatory environment on a regular basis, as well as other risks germane to their organizations. Often, management will maintain its focus on important challenges such as preparing for the company's initial public offering while ensuring the company's core operations continue and seeking new opportunities for innovation – and rightfully so. Management may identify, assess and manage certain key risks at a particular point in time, but it neglects to monitor the risk landscape on a regular basis. The risks identified in this study are presenting new challenges to organizations around the world, including pre-IPO companies.
This blog post is an excerpt from "Considering Going Public – Assessing Key Market Trends and Risks Based on Protiviti Research" on KnowledgeLeader. Read and download the entire article: