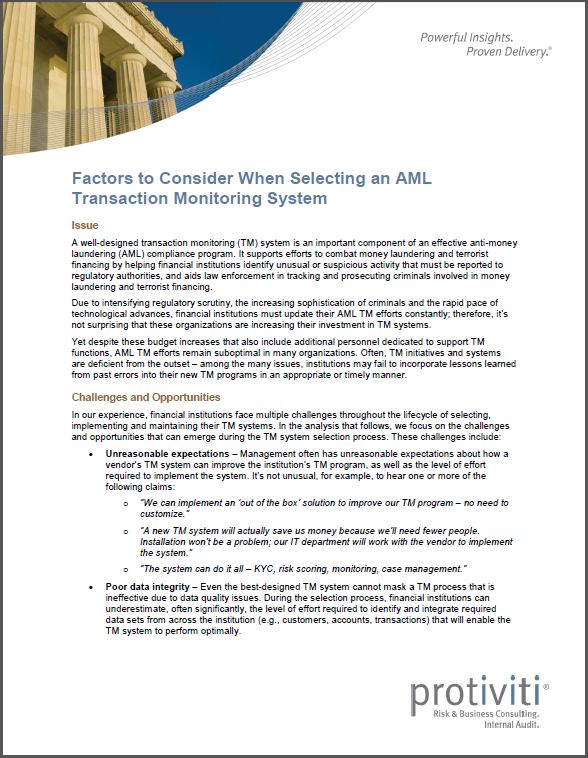 A well-designed transaction monitoring (TM) system is an important component of an effective anti-money laundering (AML) compliance program. It supports efforts to combat money laundering and terrorist financing by helping financial institutions identify unusual or suspicious activity that must be reported to regulatory authorities, and aids law enforcement in tracking and prosecuting criminals involved in money laundering and terrorist financing.
Due to intensifying regulatory scrutiny, the increasing sophistication of criminals, and the rapid pace of technological advances, financial institutions must update their AML TM efforts constantly; therefore, it's not surprising that these organizations are increasing their investment in TM systems.

Yet despite these budget increases that also include additional personnel dedicated to support TM functions, AML TM efforts remain suboptimal in many organizations. Often, TM initiatives and systems are deficient from the outset – among the many issues, institutions may fail to incorporate lessons learned from past errors into their new TM programs in an appropriate or timely manner.
Financial institutions face multiple challenges throughout the lifecycle of selecting, implementing and maintaining their TM systems. In a recent article, Protiviti focused on the challenges and opportunities that can emerge during the TM system selection process. These challenges include:
Unreasonable expectations

Poor data integrity

Improperly identified requirements

Inappropriate scenarios or thresholds
A comprehensive AML TM system selection process not only will help the institution overcome these challenges, but also will deliver a number of benefits, including:
Improved data quality and architecture

Better use of time by compliance personnel

Knowledge sharing
There's more. Read and download the full article: