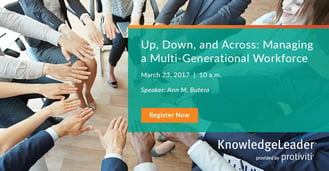 We're all aware of the differences in generations and their mentality in the workforce, but what are you doing to close the gap? As a leader, you may experience frustration toward younger direct reports due to a misaligned style of communication. How do you get the most out of your team while satisfying everyone's needs? Ann Butera, popular KnowledgeLeader writer and President of The Whole Person Project, Inc., just released her latest article about how to take advantage of today's five-generation workforce by bringing out the best in each.
At the moment, there are five generations in the workplace: Veterans, Baby Boomers, Generation X, Millennials and Generation Z. Each has a different work style and set of needs. Ann says, "Today's leader, therefore, has to be an orchestra conductor, bringing out the best performance from each musical section so that the results are harmonic and well-timed. An effective leader fosters open environments where employees of all generations feel free to learn from each other while individually contributing to the organizational culture."
Ann has worked with internal audit departments of various sizes and across industries. The Whole Person Project, Inc. is an organizational development consulting and training firm, so you can trust her expertise on this topic!
You can read the full article here: Ten Tips for Leading a Multi-generational Workforce.
Make sure to register for Ann's upcoming CPE webinar too!
CPE Webinar
Up, Down, and Across: Managing a Multi-Generational Workforce
Register here
There is 1 CPE credit available for participating attendees.
"Work hard and you will be rewarded." "Respect those with seniority." As the new breed of employee populates our companies, these business values are changing fast. Boomers and Gen Xers are working with a new generation raised in a disposable, technologically advanced, quantitative age. How can we work together, manage each other's energies, and motivate performance? Whether you're a team member or the team leader, you can benefit from understanding how to optimize the different generations' skills.
This webinar will enable you to:
Describe the factors which affect each generation's behavior and performance
Use effective practices for communicating up, down and across in your organization
Use your perspective and skills for the benefit of others, your department and yourself