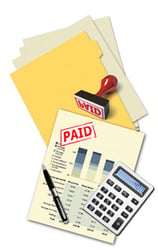 The accounts payable process is one that both organizations and individuals can relate to. If you have bills to pay, you have entered the land of accounts payable.
Because this process is important to the core operations of each organization, each new piece of accounts payable content on KnowledgeLeader resonates with subscribers. We are never surprised when a new piece stays in the top 5 for weeks, because accounts payable is a process that organizations are constantly looking to improve.
This popularity theme once again rang true when we recently published the new Accounts Payable Risk and Control Matrix (RCM). This RCM focuses on risks common to this business process such as: duplicate invoices are received and processed, leading to duplicate payment; goods are received for unauthorized or invalid purchase orders and are not appropriately recorded in the system; and misappropriations or fraudulent payments may be made.
Check out this RCM if you haven't already, along with these other related tools: